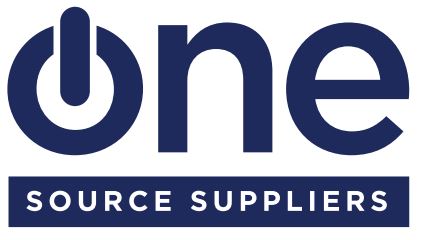 Terms & Conditions
TERMS AND CONDITIONS OF WARRANTY: Please refer to the complete return policy. New customers will be setup with default terms of Credit. Customers seeking alternative terms should contact their sales representative.

A credit application is required when requesting COD Company Check (credit card number must be provided where requested). New customers will be setup with default terms of COD Money Order / Certified Check until application is approved. Bank reference portion must be completed for COD Company Check requests. Please contact your sales representative for more information.

All customers who elect to use COD will be responsible for the $12.90 fee charged for the service. To avoid the fee customer must use alternative payment method. If you elect to receive COD terms (COD cash, check, money order) and you refuse a shipment or are unavailable to receive the shipment, you agree to reimburse the costs charged to One Source by UPS, Federal Express, or other carrier, which will be charged to your next invoice.

Defective merchandise will be exchanged for the same part number or a credit to your account will be issued at our option. If the part number is out of stock, then a credit to your account will be entered. The credit can be automatically applied to the next purchase. Buyer is purchasing from One Source at their discretion, One Source is not responsible for any 3rd party or franchise agreements that prohibits you from buying elsewhere.

Defective merchandise should be shipped to One Source at the customer's expense with an approved RMA number on the outside of every carton. Non-One Source products will be discarded and no credit will be issued. RMA forms can be found here. All defective products that need replacement will be shipped with the customer's next purchase. For merchandise marked as "Clearance", "Specials", or "No Returns", it is sold "As Is"; with no warranty, there are no returns or exchanges.

One Source does not offer any cash refunds, a credit will be posted on the customer's account and can only be used by purchasing merchandise. Short shipments must be reported within 72 hours of receiving the merchandise. It is the responsibility of the Purchaser to inspect all shipments immediately.

Return checks will be charged a $25 bank fee and must be paid in full before subsequent orders are shipped. You must file a credit card authorization form with One Source prior to using this payment method.

Interest & Collection Expense: Purchaser agrees that in the scenario of past due payments, the purchaser's account is subject to termination, and the balance will be sent to collections and all the costs associated thereof.

Supplier's Terms Control: In the event of any conflict between these Terms and any of Purchaser's purchase order, these Terms shall control and prevail over any contrary terms in the purchase order. One Source gives notice of its objection to any additional or different conditions in Purchaser's orders. These Terms and Conditions shall be governed by and interpreted in accordance with the laws of the state of New Jersey without regard to conflicts. Any and all unresolved disputes hereunder shall be decided exclusively by litigation, in either the state or federal courts located in Camden County, New Jersey.